Locost Pages - how not to build your own car
For the last five years I have been trying to build my own two seater, Lotus Seven replica sports car, based on the plans in the book 'Build Your Own Sports Car for £250' by Ron Champion. The book gives fairly detailed instructions on how to take an old Ford Escort and a lot of steel tube and sheet metal, and turn them into something that looks like this.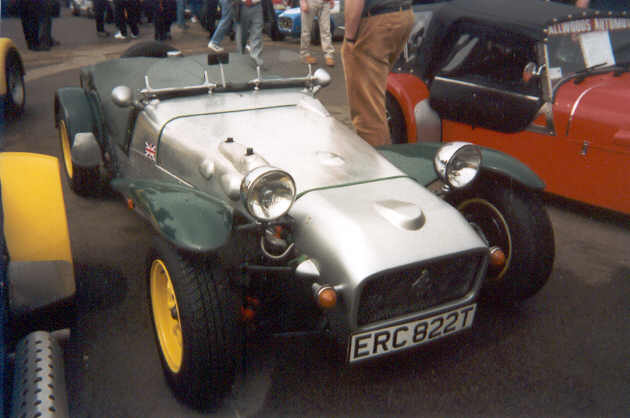 My own Locost project came about as a result of one of my rare car-buying mistakes. In a fit of optimism I rescued a Triumph Vitesse Mk2 saloon which had spent three years parked in a garden under a tree. It actually looked quite sound, if a bit scruffy, but once I started stripping it I realised that, as is often the case with classic car restorations, it was MUCH worse than it appeared. Eventually, once I realised that I would have to replace much of the bodywork, I gave up and shovelled most of the remains into a skip. This left me with an engine, transmission, suspension, brakes, steering and electrics. I advertised them for sale, but no-one wanted them, and I didn't want to throw them away. Then I found Ron Champion's book, and after reading it, I decided to see how many of the Triumph components I could use by building my own Locost.
Originally I planned to use the Vitesse engine (2.0 straight six) and gearbox, as well as the front suspension units, steering rack and column, instruments, wiring loom and pedal boxes, with a Dolomite rear axle. I actually got a fair way with this specification - see picture below.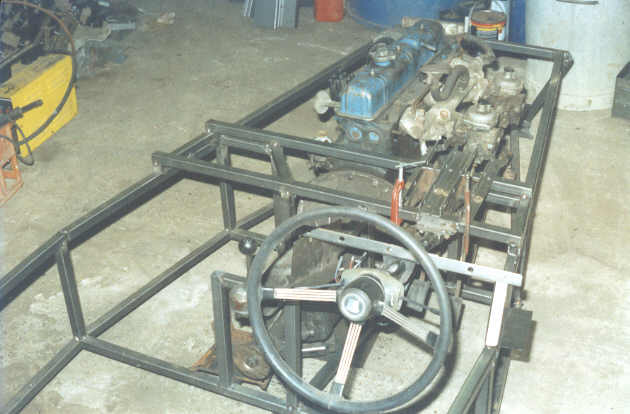 It was at this point that I realised that, with the engine and gearbox set this far back, there was not enough room in the drivers side footwell for the pedals. So I moved the engine forward nine inches, which solved the footwell problem but meant the front of the valve cover would stick out through the top of the nosecone. Meanwhile I had found that my Dolomite rear axle had different size wheel studs to the Vitesse front hubs, so I would have to use different wheels front and back. Then I got hold of a copy of the SVA regulations for testing amateur-built cars, and found that my Vitesse steering column didn't comply.
So, after many redesigns and countless hours of cutting and welding, I ended up with - Triumph Spitfire 1300 engine, Herald gearbox, Cortina uprights and fabricated wishbones as per the book, Escort live rear axle. Ford Fiesta Mk1 steering column connected to modified Vitesse rack (or possibly something else) via a Reliant Scimitar steering shaft and UJs. Vitesse instruments and electrics, Spitfire fuel tank. Nissan Micra radiator, Mini heater.
Sadly, due to far too many projects and too little time, I finally realised that I was never going to get the Locost finished, and I put it up for sale. Hopefully the new owner will pick up where I left off.
Click here to read the last progress report (and see a few photos). If you want to build a Locost, you would do well to take the following advice:
1. Stick to Ford mechanicals as outlined in the book.
2. Don't leave your chassis frame unpainted in a damp garage. It took me fifteen hours and a quarter of a ton of blasting grit to get my chassis into a suitable condition for painting.
3. Make sure your donor car is a runner, so you can tell whether the mechanicals are OK. Otherwise you will have to strip everything to inspect it, and that pushes up the cost.
4. Triumph Spitfire fuel tank is a perfect fit (not mentioned in the book, and will save you a lot of time trying to fabricate your own).
5. Buy a 9 inch disc cutter - Homebase sell one (under the Champion brand name) for under £40. It won't last as long as one of the decent quality ones, but you will not need it to do too much hard work. For cutting floor and bulkhead panels out of steel sheet, a big disc cutter is the weapon of choice.
6. Looking for welding and metalworking consumables? Try your local BOC depot. You can pick up welding wire, grinding discs, goggles etc for a fraction of what you would pay at Halfords or Homebase. They also do big bottles of argon (Argoshield Light) for MIG welding. You have to rent the bottle for about £5 per month, but the gas itself is only about £15 a bottle, and lasts for ages - one bottle should be enough to build a car. Of course, with my project having taken 3 years so far I have paid around £200 in bottle hire charges, but it still works out cheaper than buying those silly little disposable gas canisters that Halfords sell for MIG welding. You'll need a gas regulator if you don't have one already - BOC sell those as well. But be careful - they have lots of lovely kit to tempt the DIY car builder, and it is easy to get carried away. You really don't need a pillar drill on an electro-magnetic base, even if it is on special offer.....
7. Join the Locost forum on Yahoogroups. This is hugely popular, with Locost builders from all over the world sharing information and helping solve each other's problems. There is an extensive archive, drawings (I got my lower wishbone plans from there) and photos.
To give you some idea of what your own car could look like, I have put together a few photos of an early Lotus Seven, a Caterham and a few Locosts, just to inspire potential builders. Click here for the photos.