Bangernomics - the book
Back in 1993, author, illustrator and journalist James Ruppert came up with the idea of telling people how to buy and run a safe, durable car for very little money. As the recession of the early Nineties was in full swing, his timing couldn't have been better, and car manufacturers and dealers must have wanted to strangle him. By a strange process of parallel thinking, about eight years later I came up completely independently with the same idea. But being too lazy and indisciplined to write a book, I threw together a website instead, using cheap off the shelf software and a few articles that I had written while waiting to be fired at work, which I had intended to hawk round the local papers, except I couldn't be bothered.
Anyway, James Ruppert's book is still available, and instead of setting the lawyers on me for stealing his idea, he sent me a copy. It's 96 pages, paperback and costs £5.99. It looks like this.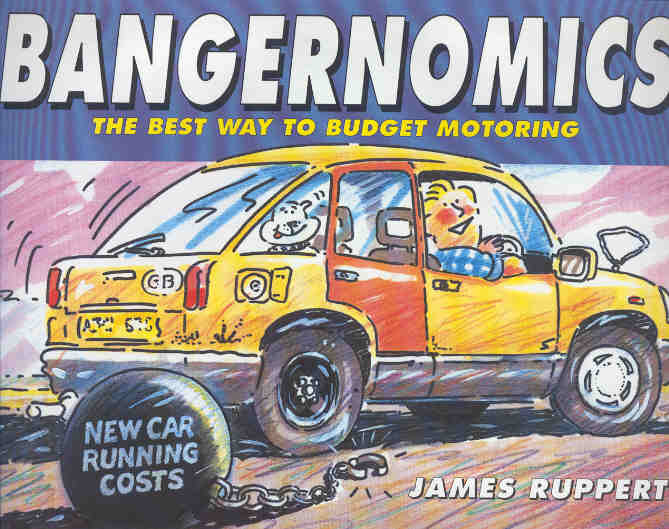 If you are serious about getting into Bangernomics, you should order a copy now, before he runs out, because the book is an absolute cracker. It contains everything you will read on this website and about a hundred times more. Some of the information on specific vehicles has dated a bit (you won't find many Marinas or Avengers in the small ads these days) but all the info on buying and running a banger is aboslutely spot on. It's an amusing read as well.
The book is available for £5.99 post free (UK only) from:
Action Automotive Products, 27 School Road, Bradenham, Norfolk IP25 7QU
Cheques / postal orders for £5.99 (or more if you are feeling generous) should be made payable to Action Automotive Products.
Update 20/7/04 - James Ruppert now has a website, www.bangernomics.co.uk. He is still working on the content, so keep an eye on it. A new edition of the book is in the pipeline - meanwhile you can order T-shirts etc from the website.