I am indebted to German reader Norbert Eichler for suggesting this article. He sent me this rather sad picture of his Mk5 Cortina, after it had been run into at high speed by a Cadillac Seville STS on the autobahn.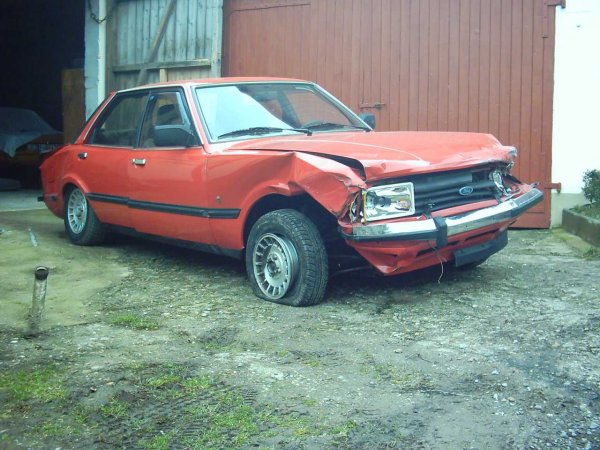 Now a Cortina is a solid old tank (which is why they are still popular with banger racers), but Norbert has a point when he reminds me that you don't have to forget about safety, just because you choose to drive a banger. He pointed me towards the Swedish 'Folksam' survey, which analyses data from real accidents. The survey rates cars as being more or less safe than the average for all the cars in the survey.
Before we look at the results, there are a couple of points worth making. Firstly, Folksam's 'least safe' category covers all cars which are more than 15% less safe than average. That's a pretty narrow band. So just because a car is rated by Folksam as 'least safe', that doesn't mean it is a death trap - especially as Folksam's 'average' is for all cars, including modern ones with multiple airbags etc. Secondly, because the data is based on actual injury rates, small cars tend to do worse than big ones, just as you would expect. So in the 'least safe' category we find most of the Bangernomics small-car favourites - Citroen AX, Nissan Micra, Vauxhall Nova, Peugeot 205 and Mk2/3 VW Polo. Personally I wouldn't want to be in an accident in any of these cars: but I drive an AX, simply because I don't regard passive safety as the only issue worth considering when buying a car. If I did, I wouldn't drive any small car.
You also need to remember that the crash performance of a car will be determined not only by its design, but also its condition. A rusted bodyshell will collapse much more readily than a sound one. So perhaps the most important step, if you are worried about safety, is to make sure your car is structurally sound. Not just MOT-worthy, but really, properly rust-free. And finally, safety isn't just about crash protection. It's also about trying to avoid having the crash in the first place. So whatever you do, make sure your brakes, suspension and steering are properly maintained, that your tyres have plenty of tread, and that all your lights work. And don't drive like a tit.
So, what bangers would the people at Folksam have you drive? Among the small cars, the only cheapie rated better than average is the 1995-on Hyundai Accent. A character-free zone, but has to be worth considering. Hyundai was the first car company to offer a 100,000 mile warranty in the US, and the cars are easy to drive and well-kitted. Moving up a size, the Vauxhall Astra Mk3 (1991-7) does well, although you need to watch out for rust especially in the sills and wheelarches. The VW Golf-derived Seat Toledo (1992-8) gives you a huge boot and a good range of engines, from turbodiesels to the 16-valve Golf motor. Speaking of VWs, the Mk3 Golf and its booted Vento cousin (1992-7) are now turning up in the bargain pages of the Autotrader and look good value. But be careful - I went to look at a 'P' reg Golf estate last month, up at a very unbangerish £2,195, and it had the kind of wheelarch rot I wouldn't expect to see on any car that age, never mind a Golf.
In the family car bracket, the Citroen Xantia (1994-2000) does well. These are cheap as chips now, even the diesels. Ford Mondeo (1993-99) is also highly rated, widely available and cheap. Or if you prefer your bangers Oriental style, how about a Honda Accord (86-93), Mazda 626 (92-97), Mitsubishi Galant (1993 on) or Nissan Primera (1991-96)? All rated above average for safety, all as reliable and easy to live with as only a Japanese car can be. The Peugeot 405 (1988-96) was rated above average, which surprised me - obviously the bodyshell on these cars isn't as flimsy as the interior. You can't get much safer than a Saab 900 - any car from 1979 onwards will be above average (provided it isn't rusty - remember some of these cars are 25 years old and upwards), but the similarly sized and frankly rather rubbish Volvo 440/460 appears in the 'least safe' category - as if you needed a reason not to buy one.
You'll struggle to find a big executive tank that isn't a safe place to be, according to the survey. Germans - Audi 100 (1992 on), BMW 5 series (1988 on), Merc E-class (1986 on) all rated above average. The Ford Granada/Scorpio (85-96) makes the cut, but the Vauxhall Senator (87-93) doesn't. Big Saabs and Volvos all do well of course, but if you plan to buy something French, Folksam reckons the Citroen XM (1990-2000) is a safer place to be than the Peugeot 605 of the same era.
The data isn't complete - there are no Rovers on the list, for example - but it's a good place to start. And which is the safest banger of all? According to Folksam, the following are at least 30% safer than average: Mitsubishi Galant, Nissan Primera. Renault Laguna, Saab 9000, Volvo 700/900. Taking rust resistance into account, I'd put my money on one of the two Swedes. On 'Top Gear' recently, Jeremy Clarkson drove a Volvo 760 into a wall at 40mph (it was supposed to be 30mph, but the speedo wasn't working). The car demolished the wall: not only was Clarkson unharmed, but he was able to reverse the car off the remains of the wall and drive it away. So the Volvo is tough, but I'd probably take the Saab, for one reason: unlike the Volvo, it handles well. Which means you stand a better chance of avoiding the accident in the first place.
So there you have it. Saab 9000: possibly the safest banger in the world.