Fancy driving something different? Most of the more glamorous classic cars (Jaguar E-Type, MGB Roadster, Austin Healey Sprite) are well outside Bangernomics territory even when terminally rusty and in pieces, But less than a grand can still get you behind the wheel of a decent solid car with bags more character than a dog-eared Montego. Just a couple of points to remember. Firstly, all these cars are OLD, which has given them a lot longer to rust. Secondly, cheap classics are a favourite target for the filler bandits, so don't be misled by bright and shiny paint. Check bodywork even more carefully than usual, and walk away from cars stuffed with filler, or with floors made up of a patchwork of welded on plates. Thirdly, cars from the fifties and sixties need far more frequent servicing than a 1986 Escort, so unless you are able to do some DIY maintenance, you will be spending a lot of money at your local garage.
Still interested? Here's ten of the best.
Austin Mini, 1959-2000 Possibly the best loved small car of all time. More space inside than you'd expect, handles like a go-kart, but deeply weird driving position, bouncy ride, noisy and the boot is full of fuel tank and battery. Minis rust horrendously, due mainly to the design which is full of mud traps and exposed body seams. Engines tough, gearboxes less so. Still plenty about, lots of tuning parts to turn yours into a replica Mini Cooper rally car. Big fun.
Morris Minor, 1948-71 Alec Issigonis' other masterpiece (he also designed the Mini). Strong, simple car with excellent economy and surprisingly modern roadholding. Brakes are pure 1948, and can get really scary if neglected. Look out for rust in the floorpan, round the engine bay and where the rear springs bolt to the floor. If the doors drop when you open them, the rot has probably reached an advanced stage. Perfect for DIY maintenance, and you can get all the bits. Wood-framed Traveller estate should be outside our price range, so beware if you find a cheap one - all that wood is structural, and very expensive to replace.
1971 Triumph 2000 - a lot of luxury for a grand.
Triumph 2000 / 2500, 1963-77 Main rival to the Rover 2000, with less advanced engineering but silky smooth six cylinder engines. Rust eats into sills, floor and (potentially lethally) rear spring mounts. A worn engine will rattle on start up. Later 2500S model is better equipped (power steering, alloys): fuel injected 2.5PI model is quick but complex, and unreliable if neglected: 2000 automatic is desperately slow. Useful estate version. Triumph Dolomite looks similar, but is smaller all round, with four cylinder engines of 1300, 1500, 1850 and 2 litre (Sprint) sizes. Triumph 1300, 1500 and Toledo are all variants on the Dolomite theme. Triumph were always good at interiors, so inside any of these cars is a pleasant place to be.
Ford Escort Mk1 / Mk2, 1967-80 Twenty years ago, every Jack the Lad had one of these, with wide wheels, sports exhaust and a spoiler on the boot. Hugely successful as a rally car, and even the more basic versions are fun to drive thanks to free-revving Kent crossflow engines, slick gearchange and well-sorted suspension. Rust in the chassis legs at the front of the car, or round the spring mounts at the back, will not be worth repairing. Best model for under a grand is probably the Mk 2 1600 Ghia. Parts are cheap and still widely available (except body panels which are getting hard to find, thanks to all those rally cars being driven into trees). Values rising fast, so be quick if you want a good one.
Ford Capri 2.8/3.0, 1968-84 Forget the four cylinder cars, the only real Capri is one with a big engine. Rear wheel drive, crude cart-spring suspension and too much power make for an entertaining drive, and later cars have fuel injection and other goodies. Rusts like any twenty-something Ford, but lots built, so you should be able to find a nice one. Look out for thrashed, crashed and crudely customized cars - an original unmodified motor is what you are looking for.
Triumph Herald, 1959-71 Sharp Italian styling hides tough, simple British mechanicals. Excellent visibility and a DIY mechanic's dream, thanks to one-piece bonnet and wings that swing forward. Rear suspension is very crude - treat with respect or you could find yourself heading backwards into the scenery at high speed. Rusts everywhere, but separate chassis makes repairs easier than on most cars. Engines are not especially long-lasting, but cheap and easy to work on. Rattle at start up indicates problems. Best version is 13/60 from 1967 on, with more powerful engine, upgraded interior and decent brakes. Convertible version sometimes turns up at this price level, but usually in a poor state.
Rover P6, 1963-75 Very advanced car for its day, and winner of various safety awards over the years. Choice of durable four cylinder engines (2000 or 2200) or the mighty 3.5 litre V8. Unusual construction, with a steel inner shell to which all the body panels are bolted (even the roof). This makes assessing body condition difficult, as it is easy to bolt a set of straight, shiny panels to a dangerously corroded inner shell. Take a good look underneath the car, around the inside of the wheelarches and inside the engine bay. If the bodyshell is rotten in these areas, the bits you can't see will probably be as bad. Later (post 1970) vehicles suffered progressively poorer build and paint quality.
Volkswagen Beetle, 1936-date Hitler's 'People's Car' actually turned out rather well, with millions being made in various places around the world. Still available new today from specialists who import them from Brazil. You either love Beetles or hate them. Flat-four engine is available in various power outputs from pathetic (1100) to adequate (1600) and can be tuned to produce more power than the suspension can handle. Rear engine makes for a tricky car to drive in wet weather. Noisy, short on luggage space and exhaust leaks can allow fumes into the cabin - this problem is not cheap to fix. Rusts if neglected, but panels available and cheap. Earlier cars have six volt electrics - home before dark! A Beetle at this price is likely to need work soon.
Citroen 2CV, 1948-90 Another car which generates strong opinions both for and against. Plus points are ultra-absorbent suspension, more room inside than you would expect, roll-back fabric sunroof and good parts availability. Bad news is that the body and chassis can rot spectacularly, some repair jobs are very tricky for DIY maintenance, and 602cc is a barely adequate engine size for a motorcycle, let alone a four door saloon car. Body lean in corners is legendary, but almost impossible to actually roll over. Very French.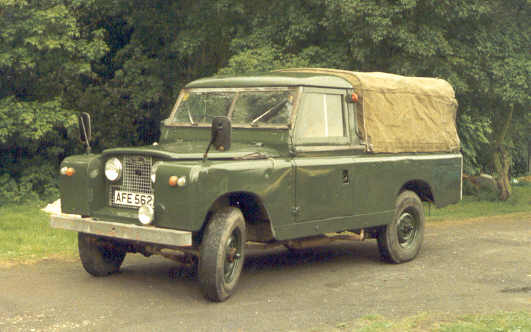 Land Rover Series I/II/IIA/III, 1948-84 Classic utility vehicle, available in a huge variety of wheelbase lengths and body styles. Station wagons are the most car-like, but still a culture shock. Noisy, bouncy and brutally heavy to drive, but owners love them. Petrol models are thirsty (especially the V8, which can get below 10 miles to the gallon). Six cylinder vehicles not much quicker than fours, and very expensive to convert to unleaded - avoid. Diesels are gutless and tend to break major components if neglected. Body is aluminium, but steel chassis can, and does, rot badly - vehicles have been known to break in half. Best buy - Series IIA short wheelbase station wagon, four cylinder petrol with overdrive and Weber carburetor conversion. Worst buy - Series III long wheelbase six cylinder painted in construction company livery.